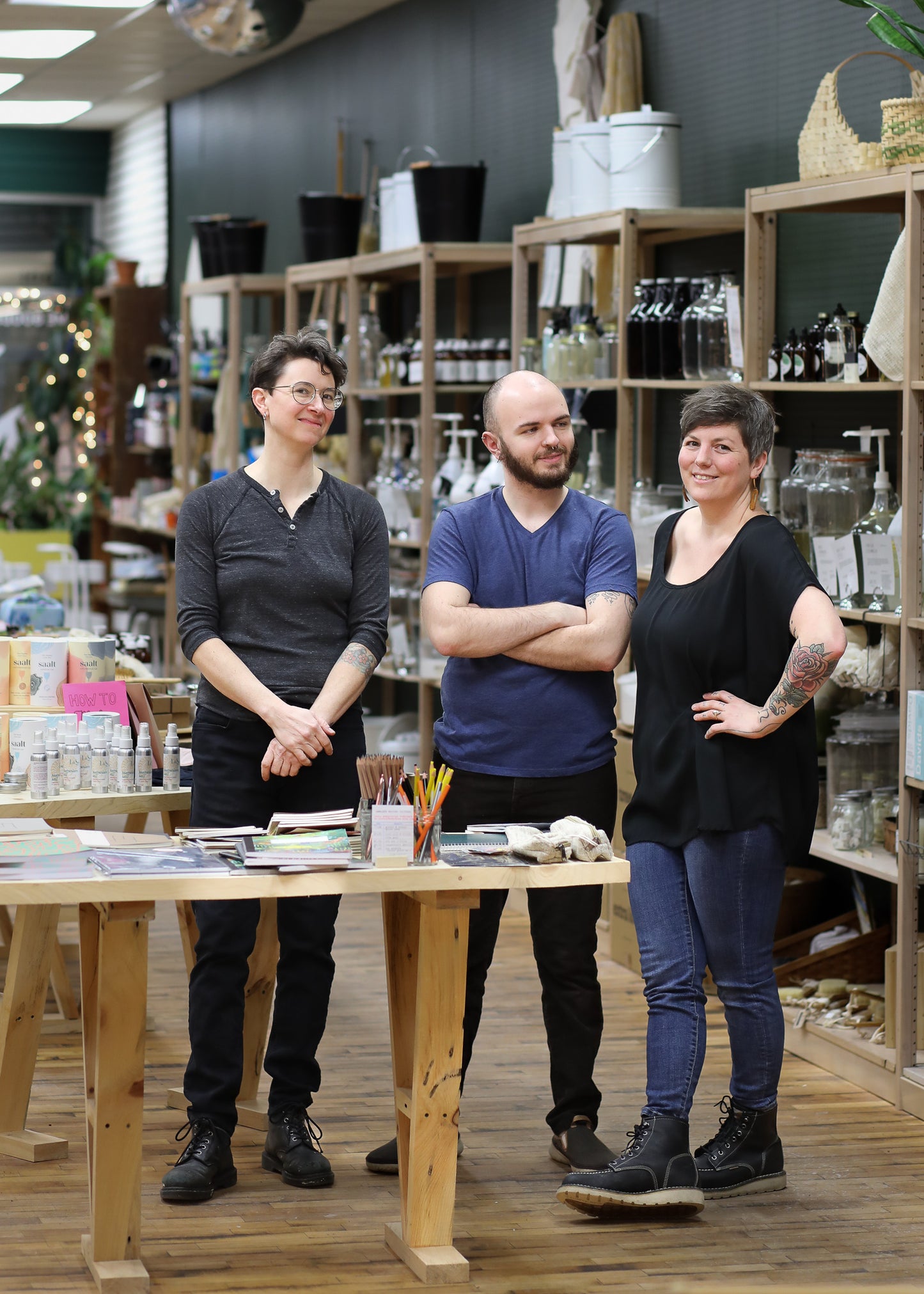 Our focus for the first year was to bring low waste goods and zero waste options to our community. Often rural spaces get left behind in the cultural curve and progressive advances. For us, having plastic free, bulk and refill options was our part to play in the larger sustainability conversation in the area. 
process is a lifestyle store curated and collaboratively owned by three queer rural/urban transplants. Our low waste shop and refillery is located in downtown Stevens Point in central Wisconsin. We source sustainable home goods and personal care items for everyone in the family.
...but who are we, really?
Meet the Owners
process was started in 2019 by founder and co-owner Rubina "rue"  Martini (she/they). Rue was getting priced out of the Pacific Northwest and sought a more sustainable lifestyle, both emotionally and economically. Having passed through Wisconsin years earlier, they convinced their partner to move to the area. Rue and their partner started Tomorrow River Homestead, a short term hospitality space and artist residency in the Village of Nelsonville (pop 150). 
The amount of waste produced from running a bed and breakfast was overwhelming to Rue. She started researching bulk, plastic free and zero waste options for the operations of the homestead. This led to opening a small storefront off the front porch. Guests and community members loved it. 
With a new baby coming along and a desire to work collaboratively, Rue ventured to find a friend(s) who might be interested in creating a cooperatively owned Zero Waste Store! 
Sheena Meddaugh (they/them) and Rue became acquainted in Nelsonville shortly after Rue moved to central Wisconsin. While Sheena lives in Minneapolis, Sheena was born in Nelsonville and has ties to the community. It took some months of convincing but eventually Sheena was eager to partner up and build process.
Sheena has a background in cooperative management and for over a decade worked as the buying manager at the Seward Food Co-op in Minneapolis. Soon after joining process, Sheena became a co-owner and took on the operations of the business. Sheena lives between central Wisconsin and Minneapolis. 
These two partners centered their commitment to their own families as well as the rural community they are so drawn to. While Rubina has no ties to the area, hails from urban centers and Sheena left the small town for the big city, they both feel strongly about building resilience in rural space. process has become a way to share in the rural resiliency of the area. 
When Rue moved to the area they spent time volunteering as a way to connect to the community. For a few months they participated in the working members program for the Stevens Point Area Co-op. It was here that they started to connect to the thriving co-op community in Stevens Point. 
Lyn Cuirro (they/them) is an activist with a passion for cooperative structures. They organize for Socialist Alternative as well as help organize for the Central Wisconsin Abortion Defense Coalition. Along with their social work, Lyn is a founding co-owner of Bound to Happen Books which is the collaboratively owned bookstore at the same location as process. 
Lyn started at process as a working member shortly after our store opened its first location in Amherst, Wisconsin. While Sheena and Rubina scoped out locations in Stevens Point Lyn helped facilitate structures and processes for the store. It was in the summer of 2021 that our downtown Stevens Point area store became available. Lyn was thoughtfully eager to collaborate on our growth and the potential for building a community hub. Naturally we invited Lyn to co-ownership during this development. 
1008 Main Street Cooperative
Located across from the library on Main St in downtown Stevens Point is a three and a half story building totalling 5500 square feet. This space has a long history but immediately preceding our move in it was Agora Makers Market. For a few years community members became acquainted with the space. The owner Cara put in countless hours of renovation and love. We knew it would be prime and luckily for us they only moved a couple doors down. 
But what the hell were we going to do with 5500 square feet?! 
It didn't take long to invite Lyn's bookstore to the space, brainstorm plans for shared systems and for all 5 owners of the two stores to reimagine how two businesses can operate in this shared space. 1008 Main Street Cooperative was created. 
Within hours of getting the keys our crew plus partners sanded 2000 square feet of maple floors, painted the hideous peg board wall, exchanged fixtures and started moving in. It took weeks of extensive work but we were able to flip the space and open our doors in two weeks. While we aren't the glam grand open type of folks, the space quickly had an identity relatable to the customers committed to us. 
For the last year and a half we have diligently worked out systems, layouts, plumbing and partnerships. We have seen our businesses thrive in the downtown center and our community grow each day we are open. 
Central Wisconsin Sustainability
process is founded on four values that represent the common ties between the owners. These values are also growing in the area the more we see transplants and locals alike investing in the central Wisconsin community. It is in these values that we focus our work.
We are:
Sustainability Driven




Local Loving

Family Centered

Queer Identifying
Our focus for the first year was to bring low waste goods and zero waste options to our community. Often rural spaces get left behind in the cultural curve and progressive advances. For us, having plastic free, bulk and refill options was our part to play in the larger sustainability conversation in the area. 
Since the hippies created the Stevens Point Area Food Co-op in the 1970's, to Recycling Connections educating our community about waste, to Farmshed securing our area with a network of food growers, this area has been discussing the relevance of a more sustainable future. These ideas are not new to the area and for many of us it is the reason we are here. It was only natural that process would cozy up to the conversation and fill the gap with low waste consumer goods. 
We have spent the last year listening, researching and developing a sustainable refillery for our community. We have curated tools and items for the home and body that make living sustainably easier and cuter. 
Our low waste home goods and personal care products compliment the Stevens Point Area Food Co-op's bulk food section and Market on Strongs. We make it possible for those who want a true local shopping experience to be able to get most of their needs outside of big box stores.
Over the next year we will focus on how much love there is for the local area. We will continue to develop different departments for all folks in all types of families. We will continue to nurture the community that has developed over the past two years. 
Stayed tuned for more blog posts and media at our newsletter.